Library
Access the resources of a global university—over 7.8 million items.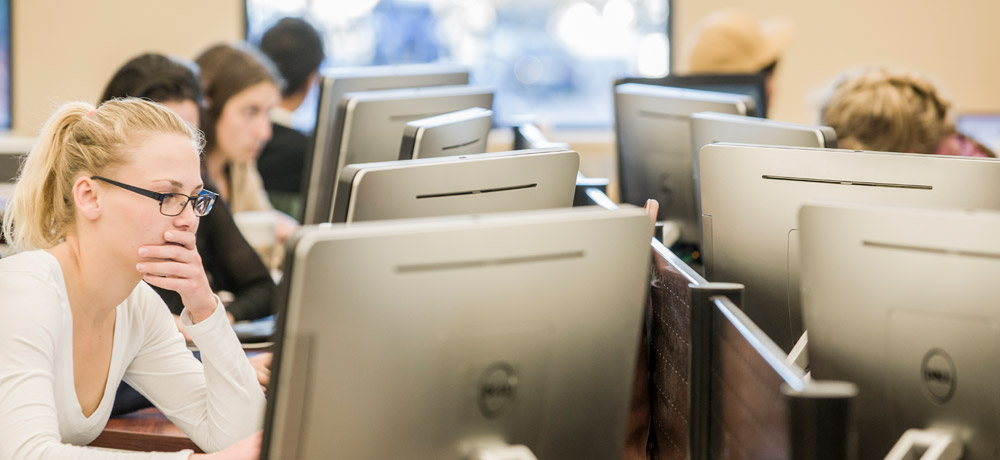 At UBC Okanagan, our library helps transform undergrad students into promising researchers and contains the must-have scholastic assets for graduate students and faculty members.
The Library is an inclusive place where collaboration, new thinking, and scholarly engagement are given the tools, support, and opportunity to create a better world.
UBC-Wide Collections
7.8 million items
2.3 million e-books
2,495 indexes and databases
313,000 e-journals
@UBCOLibrary
650 seats for quiet study
127 desktops, plus 38 laptops for loan
259 librarian-taught workshops, and 62
communication and writing bootcamps and workshops
Nothing Common about it
The Commons building at UBC Okanagan is a significant addition to the campus environment and will be an influential part of the student, faculty, staff, and visitor experience on the campus.
Following extensive student consultation and a successful student-led referendum, the Okanagan student body committed to funding approximately a third of the project, up to $10 million.
The building was initially proposed as an addition to the current Library building to create a new multipurpose facility. A flagship new building for UBC Okanagan, the Commons provides much-needed teaching and learning space for rapidly developing campus. With its futuristic, state-of-the-art design, the Commons is anything but common—it is uniquely designed to foster collaboration, scholarly engagement and innovation.
Highlights
A 400+ seat classroom, supporting growth of high-demand programs
A digital design lab
A visualization and emerging media studio which will facilitate high resolution data modeling for research and teaching
A new special collections facility to support research, teaching and community
UBC Studios Okanagan
New food outlet, The Comma
33 new bookable study rooms (with a total of 164 seats)
120 new study spaces in quiet study areas
Over 350 new study spaces in collaborative study areas
$10 million funded by students
Building The Commons
Check out a time lapse video as The Commons went up.
Students for Students
Since 1915, students have been creating exceptional learning and recreation spaces for students at UBC through successful fund-raising, passion, and commitment to a better future. The Commons has been generously funded by students (approximately a third of the project, up to $10 million) and provides flexible learning and study spaces as well as a much-needed additional food outlet. The Commons building is a testament to the spirit of the class of 2018 who were instrumental in the construction of this building.